As a Designer in Denver, Colorado, I have had the great honor of working with the best of the best
Artists and Faux Finishers in Colorado.
Below showcases just a handful of some of my favorite Projects.
Italian Restaurant - Villa Scene Mural
(Artist - Art of the Interiors - Andrea Humme)
Embosed Gold Leaf on textured/glazed walls
Stenciled Design on top of a textured/glazed wall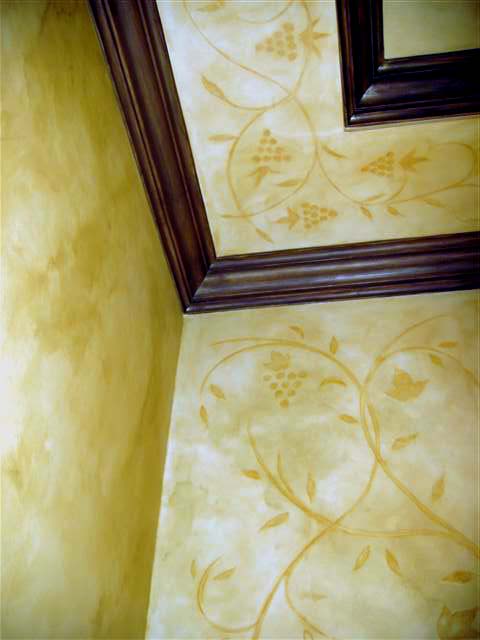 Trompe Lautrec Poster
Painted Onto Wall
Venetian Plaster - Water Closet
(Faux Finisher - "Dub" James)
Glazing to these lightly "skip-trowel" textured wall
Interactive Fun & Whimsical Western Children's Bedroom
(Artist - Matt Dowling)
Textured Ceiling using Painted Paper along with Vine Stencil (pictured in my Gallery)
(Artist/Faux Finisher - Robert Castillo - Ultimate Illusions)
Guest Bath Walls & Ceilings using Venetian Plaster
Garden Scene Mural for Kitchen Nook
Destressed/Antiqued Tumbled Marble Texture accent this Contemporary Kitchen Island Wall.
Featured in "Signature Kitchen & Baths" Spring 2003 issue.
(Faux Finisher - Dub James)
Textured/Glazed Walls & Coffered Ceiling painted with unique gilding
Art Niche with a Dimensional Painted Frame on Textured Glazed Walls (Artist/Faux Finisher - Robert Castillo - Ultimate Illusions)
Playroom Parker Valley Mural, we even destressed the wood panels to resemble old red barn wood. This, you've got to see in person! (Robert Castillo - Ultimate Illusions)