Progress In-Action
Becky adding her touches
"Seasonal Foilage"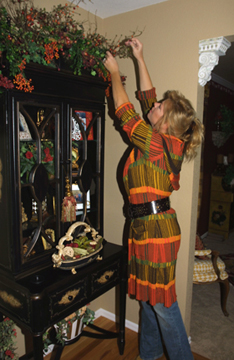 Below is a "COLOR BOARD" for my Client's Kitchen Remodel for their rustic/elegant designed home in Cherry Hills, Colorado.
A Typical Project can be as simple as adding "Foilage" to a room,
or with an Elaborate COLOR BOARD.
No Job too small or big!
Check out a few more "COLOR-BOARDS"
prepared exclusively for my discriminating Clientele.
Below is a Color Board done for a 12 Year Old Girl's Bedroom Remodel. She told me she loved bright colors, and lots of them but did not want her room to look like a "little girls room".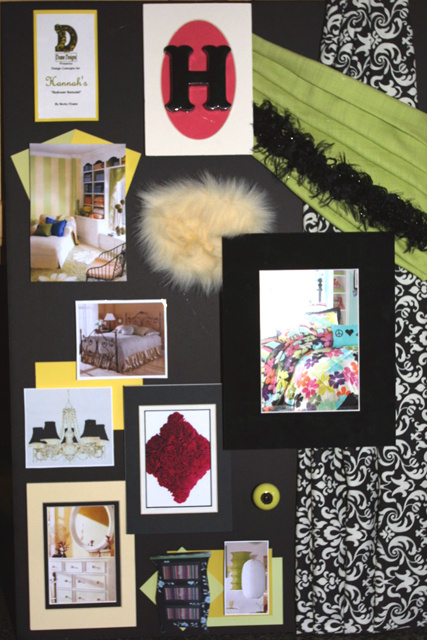 Below, is a "Color Board" designed for another 12 Year Old Girl's Bathroom Remodel.
She told me she loved this "blue" color. I wanted to make sure I covered every detail in this remodel, including tiles, hardware, cabinetry, woodwork, and light fixutures. The framed picture is my Conceptual.



Below, is a "Color Board" designed for my Client's "Guest Bedroom".
This includes color suggestions, fabrics for bedding, drapery and furniture, along with an interesting shower curtain concept. In addition, see details for a lovely and unique crystal chandelier for placement over the bed.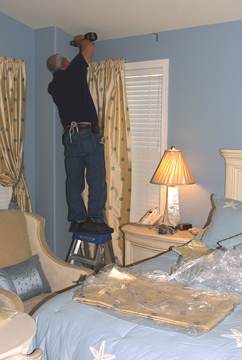 Professional Installations by
Manny Hershkovich
Becky putting the Finishing Touches on her Designs
"Awh.... Finished"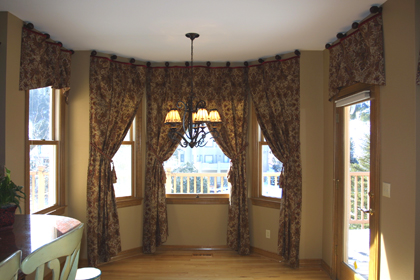 Precise Measurements are a must with this Simple & Classy Drapery Design.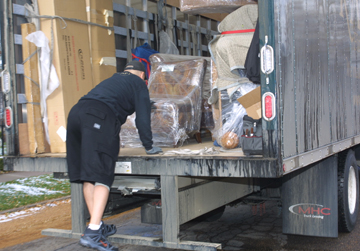 Delivery & the "set-up"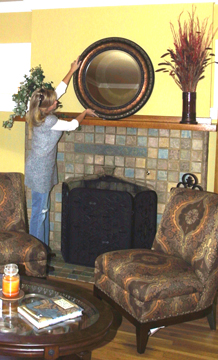 Becky says, "I love mirrors ... it makes a room feel bigger but adds warmth".
ENTRY STAIRWAYS ARE THE "FIRST IMPRESSION", LASTING IMPRESSION. BELOW IS A BEFORE, DURING AND AFTER PHOTO OF A CHERRY HILLS FARMS HOME THAT I RECENTLY UPDATE.
Cherry Hills Farms Home, Kitchen Update.
I recommended we apply a cherry finish to the original "pickled" wood finish kitchen cabinets. This gives this kitchen an facelift at a fraction of the cost compared to all new cabinets.
Faux Finisher (Ronnie) of Fauxtastically Ronnie.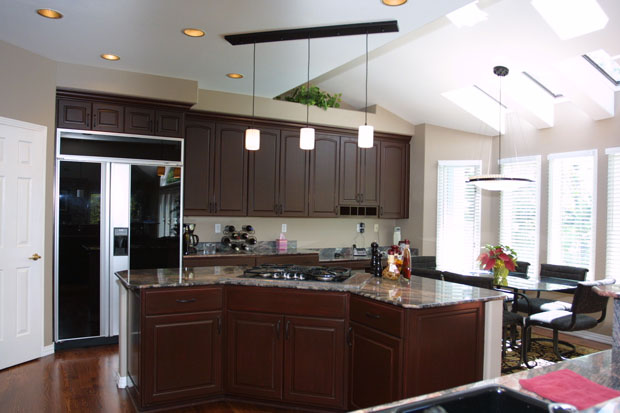 Becky needs a gentle persuaison every so often, encouraging Drapery Panels to lay as designed.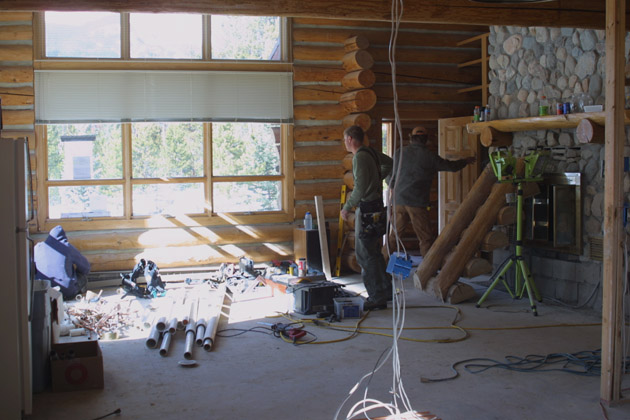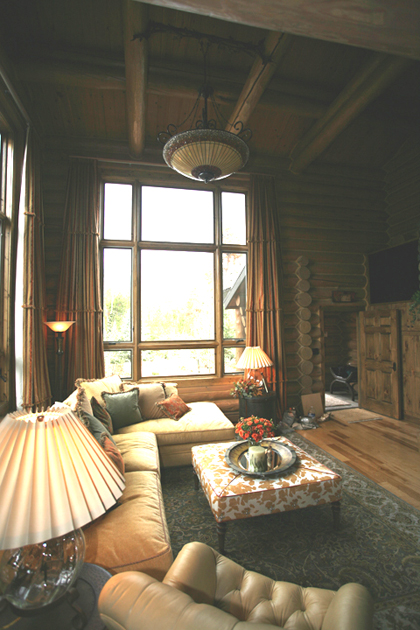 Contractors working feverishly to get all electrical in place before next stage of Log Walls to be sanded & "prepped" for new Chinking & Staining. Then comes the new windows!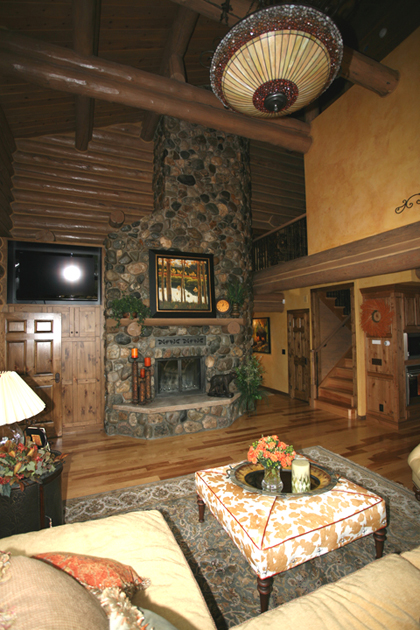 Extensive research is involved with every little aspect of a Home "Facelift". From stain color selections for these log walls, to stone color enhancement details......then the decorative touches!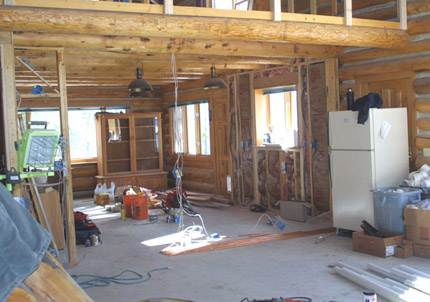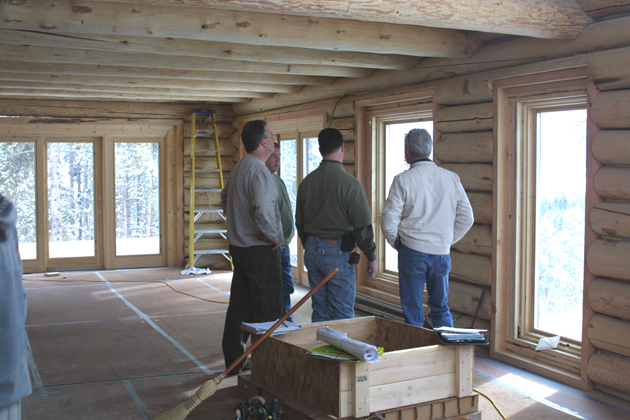 First Comes the mess, then comes the constant monitoring of progress
(Michael DeVere and his Rosewater Construction Team), then.....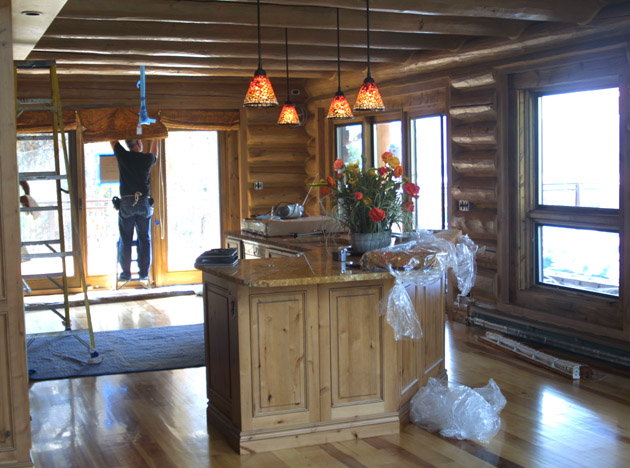 Professional Installer, Manny following Becky's directions to intall Roman Shades under the
Gently Scalloped Cornice Boards with Fringe.... then .....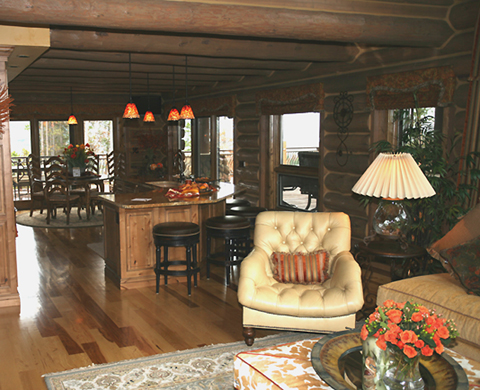 VOILA.......THE FINISHED PRODUCT
THIS WAS A DOOOOOSIE..what did I get myself into?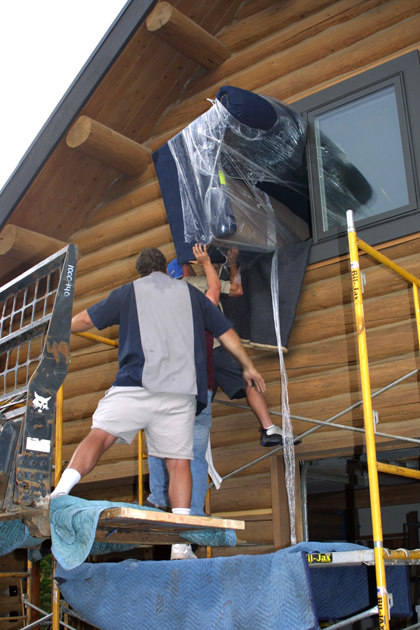 We had a situation....the angle of stairwell would not allow the angled sectional to fit.
Where there's a will, there's a way!
The team put their heads together, took out a window, and my AMAZING team (Alternative Moving Solutions and creative help from the Foreman Kevin Montague of Rosewater),
we made it work, without a scratch!
This Angled Denim Sectional and Club Chair adds charm to this Cosy Cabin.
ANYTHING'S POSSIBLE!
Becky coordinates a Team that best suits each Project.
The "Team" (Rosewater Construction) is celebrating the finish of a year long commitment &
a very successful "Face-lift" to the
Silverthorne Mountain Home Project.
This Page is a new addition to my Website.
Please check back soon, there's more to come.

Thanks!